Outstanding Location!
In the heart of Kinosaki Onsen
Located near the Sea of Japan coast, "Kinosaki Onsen" in Toyooka city is Japan's foremost hot spring town with a history nearly 1300 years old. As was in the old times, it is still popular to dress in yukata and wooden sandals when walking through the town to the several bath houses. This is why Kinosaki is said to be the best yukata fitting town in Japan. Tsukimotoya is an inn true to the Japanese style, quietly tucked back in the center of town. A perfect location when wanting to visit the hot springs and stroll through the town.
Give yourself a moment of tranquility while experiencing Kinosaki Onsen's age-old atmosphere and charm. Noted as a "Pleasant Lodging" in the Michelin Guide Hyogo 2016
Dining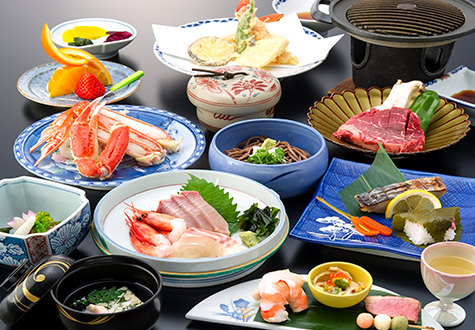 Seasonal dishes made with fresh ingredients from the mountains and the sea. In winter, enjoy a full course of Matsuba (snow) crab.
About Our Ryokan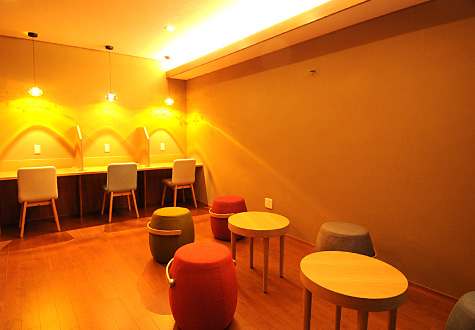 A ryokan filled with tranquility. The inn's tranquil atmosphere warmly welcomes and invites guests into a place of serenity.
Spending Time in Kinosaki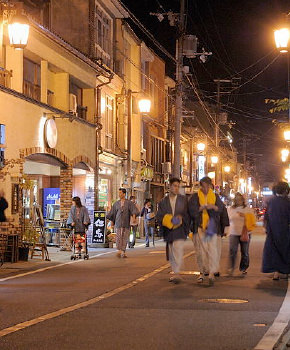 Walking the Town

In the small town of Kinosaki Onsen you will find a train station, bathhouses, a temple, souvenir shops, restaurants and more clustered together.
Visitors staying in Kinosaki will enjoy strolling the town in a yukata. Different from the established traditional areas of a city, the town of Kinosaki Onsen's traditional atmosphere is just as it was in the old days. Enjoy strolling this rare hot spring town, tour around to the seven different hot spring bathhouses, offer up a prayer at the temple, and buy a special keepsake souvenir.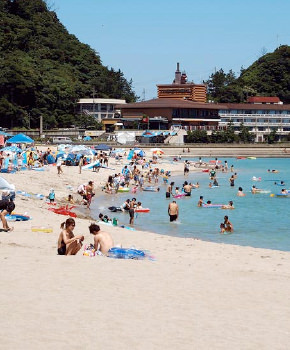 Nature

Outdoor lovers can delight in Kinosaki Onsen year round. Far from over crowded concrete jungles, journey here for a breath of fresh air. Found nestled in a mountain valley, surrounded by cedar forests and bamboo groves with a prime location near the sea, mountains and river. From spring to fall you can take to the sea for snorkeling, swimming, or kayaking in the crystal clear waters of the sea. Stay inland and hike the lava flows and see the impressive waterfalls and rivers that they have made. Take a paragliding lesson and enjoy a bird's eye view of the mountains. Ski, snowshoe, ice-skate and more in the winter. Hike to the top of Mount Kuruhi in the early fall mornings for a magnificent sunrise over a sea of clouds. All of this and more can be found in, around and near Kinosaki Onsen. Stop by the tourist information center for information on tours and transportation to nearby must see scenic spots. You can also rent a bicycle and take a leisurely trip along the river, through the mountains and to the beach, the perfect way to spend a beautiful day in Kinosaki Onsen.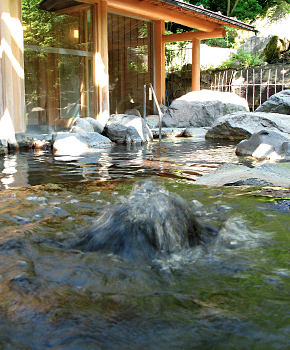 Hot Spring Benefits

A person must spend extended amounts of time soaking in the water and drinking the water of the hot springs in order to reap their full health benefits. Hot spring treatment has long been a part of Japan's history. Back when medical treatments and techniques were not yet adequate, numerous people would turn to the hot springs in attempt to recover from and treat their ailments. Nowadays, people come to stay in hot spring resorts with rich natural environments to escape from the stresses of society. The hot springs are now a popular destination for people looking to refresh their body and minds in these high quality waters.